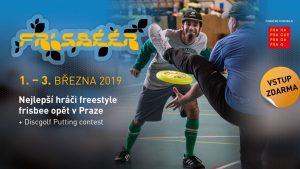 Frisbeer Cup 2019 takes place in Prague, CZ on Mar 1 – 3. Thanks to Jakub "Mystiq" Matula, the event will be streamed live.
This is the 13th annual Frisbeer Cup. Frisbeer takes place indoors. With its long history of a relaxed and fun vibe, experimental formats, and huge gym space, this event tends to be one of the largest Freestyle Frisbee events outside of the world championships. Many of the top players make appearances and often teams getting ready for worlds use frisbeer as a place to preview their routines.
This year, Frisbeer Cup will be using the protype judging system from the FPA judges committee.