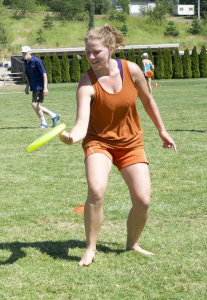 This Poll idea comes from Florian Hess, a member of the Karsruhe team who won the Co-Op world title two years in a row (2016-17). One of the main skills that makes Freestyle Frisbee unique from other disc sports is the nail delay; the act of spinning the disc on one's fingernail. To enhance this skill, most players wear fake nails. As such a number of nail "suppliers" have sprung up. That is to say, several players make fake nails and sell of give them to other players. Still, other players make their own nails. This poll asks the question, which nails do you prefer? Let us know in the comments why. See below for a more detailed description of each nail.
[poll id="31″]
Heinnails (made by Matt Gauthier) and Yarnails (Made by Dan Yarnell) are made from dental acrylic. They are very hard and durable. Hein Nails come from molds so there are different, consistent sizes. Yarnails are made individually and so have more variation but also more art…colors and designs.
Lou Sommeral makes Bonenails, which are carved from bones. They are very nice, and look really cool. Lou dies them and the bone has natural pores.
Manicured nails, where people go into a nail salon and get fake nails that are extra thick. These stay on all the time so there's no need for glue before jamming.
Alinails and Toby nails are made by Ali and Toby. I don't know how they do it. Maybe they can comment.
I've not heard of Shellworthnails but my guess is they are made from sea shells.
Krazygluenails would be ones made from Krazy Glue tubes. Players cut them out from the tube. Many years ago, this was the primary nail in use.
Self made would be any that you make yourself. Let us know how you do it.
Other are any that don't fit the categories above. Let us know what we missed.