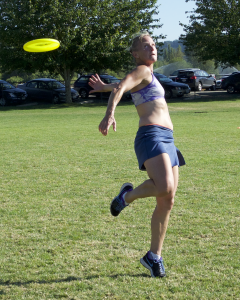 The concept of the bail catch is an interesting one. It's really your go-to catch. It's a catch in which you have supreme confidence and that you can pull out without giving any thought to it. It's the catch that's used any time there's trouble. Maybe you're going for a hein combo and the wind puffs? Give the disc a touch and make the bail catch. Maybe your partner sets you short? No problem, pull out the bail catch.
Yes, we all need at least one bail catch. Mine is the left hand scarecrow. I recall the moment I realized this was the case: it was in a competition, the wind was unpredictable, and I was on a brushing run when the wind puffed. The disc began to blow behind me and, BAM, without even thinking about it I reached back and caught a scarecrow. It happened before I even had time to panic.
So now let's find out, what is your bail catch? Don't worry if you have more than one, as this poll is multiple choice.
What is Your Bail Catch?
[poll id="55″]
In case you don't know what these catches are, follow these links: