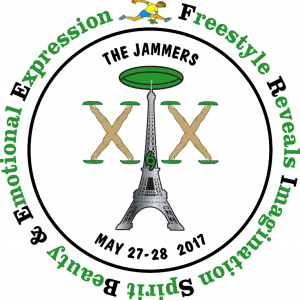 The Jammers 2017 will be Streamed Live. The exact day and time is determined by the weather but we are expecting to start on May 27 at 13:00 UTC-4 (1p Eastern Standard Time). Tune in here.
I had a chance to catch up with Paul Kenny, the tournament director to find out more about the event.
Jake: As the 20th annual this year, The Jammers is the longest running Freestyle Frisbee event that takes place in the same location every year. What motivates you to keep going?
Paul: I think a similar anxiety happens regarding competing.  I put routines/tournaments together and always before I do it I ask, why do I put so much effort into it, it would be easier and less stressful to not do it – then when it is going on and soon after, I am reminded why I do it.  And that is, there is no better way to be together with the ones I love. Regarding The Jammers, when the weather is excellent and I am on my balcony watching everyone jamming – there is no better feeling I get.  It reminds me that ultimately I am bringing happiness to my friends.
Jake: I, and several other players come to The Jammers every year. What do you think makes The Jammers special?
Paul: Warm weather, hardpack, the frizbreeze.  When the weather is right, there is no better place to jam.  Interestingly I probably do way too much regarding things I can control so maybe that is part of it.  One thing I am most proud of is the number of lifelong friendships OTHERS have made with each other because of this gathering.  There are a surprising number of folks that get together many times whether I am there or not.  They first met here.
Jake: What playing conditions can the players expect this year?
Paul: Same answer as that which makes The Jammers special – when right, the best playing conditions in the world.  People can likely expect a day that may not be perfect but The Jammers has turned into a multi-day event with jamming over many days.  An interesting side note – they are doing road construction in front of our place and they are re-nourishing our beach dunes so there could be some industrial anarchy that might make a good James/Ryan video 🙂
Jake: Who are some of the people you except to attend? What teams should we be watching to put on big performances?
Paul: I think James and Ryan (underrated?) are starting their point run so that could be ridiculous.  Pipo is always a last minute call but he has only missed one event ever.  My plan, if he will have me, is to play with him as we competed at the first ever Jammers, so it is important for me to close that historical circle.  Expect Larry and Murf to be here.  They have embraced the tournament so much, they bought property on the beach a short walk to tournament central :-).  The south Florida gang (Berni, Rich, Vic and others), Geoff and Nanette from Orlando.  Jeff O'Brien, Jonathein, Lori, Darryl.  A couple first timers in Rob Fried along with Lou.  So along with Daniel and James, this will have a serious NY vibe.  Bethany, Joel, Kim I believe and Dan Yarnell are all slated to be here.  Steve Scannell is another regular who will attend. And Gus Emmerson (a blast from the past) will be playing with Carl. There are always people I am forgetting and others that show up unannounced so it should be another great turnout.
Jake: Anything you'd like to add?
Paul: My parents attended every year they were physically able.  They helped me establish momentum and is a big factor this became something I wanted to continue (so this may be a part of the first answer).  That said, when my Father passed (he was Irish), my disc art was centered around a leprechaun spinning a disc.  My Mother passed recently (she was French) and the disc art (I made a pin as well) is centered by the Eiffel Tower spinning a disc (incidentally generated by Raphael Legrand from Paris).  The complete disc art was generated by Berni Murray (one of the folks who have made this tournament theirs).  The disc art includes our gitis guy character (for World Gitis Day Sunday of the event), a dual replica of the disc art used for the 10th Jammers (Roman numeral XX where the X's are each essentially 4 fingers each spinning a disc) and my slogan Freestyle Reveals Imagination Spirit Beauty and Emotional Expression.  Shirts were also made so a lot of schwag basically to honor my Mom.
Lastly I would like to recognize Cheryl and Carl.  They have, as Berni has become, been the backbone of the event.  Cheryl generating art, coming up with party ideas, treats and allowing me to open up our place to the anarchy.  Carl who has generated a lot of the schwag, hosted parties and generally doing all the little things no one would notice but the Tournament Director.
Jake: To get an idea of what to expect, watch the replay from 2015.