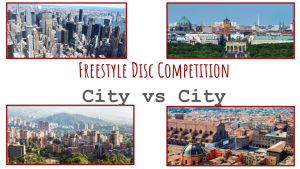 City vs City 2019 Finals are almost upon us: Feb 9 @ 2p EST/8p CET. It's time to find out who will be crowed the heinest city for 2019.
In one corner we have New York City. New York made a strong showing in Round 1, with back and forth scoring. They had a few early drops but mostly their play was exciting and on the edge. They also came with some choreography for the opening CoOp and Pairs battles, ending with the patented leg trap.
In the other corner we have Berlin. In Round 2 they started off slow, losing the opening rounds but then brought the hammer in 1v1, with zero mistakes or hesitation. In 1v1 they showed a high level of creativity and tradition "hein", with multiple spinning combos and huge catches.
New York's keys to victory will be to take control early, and dictate the pace. If they can take CoOp and Pairs and then continue to shred into 1v1, they could run away with an early win before Berlin has a chance to show all their skills. If Berlin starts winning battles, New York will have its work cut out to keep up. Having a 2 point lead going into 1v1 could make a big difference.
Berlin's keys to victory are to weather the early storm, and pull ahead at the end. If Berlin plays as they did in Round 2, there may a be a turning point moment where they score a key victory. At this point, strategically choosing players and shredding will put the pressure on New York. If New York cracks, Berlin could end up a stronger roster near the end of 1v1 and ultimately winning.
What do you think are the keys to victory for each city?