Podcast: Play in new window | Download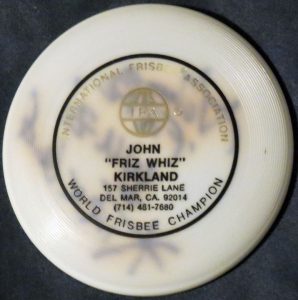 John Kirkland talks about pendulums, air molecules, and the beginning of the chaos theory – or, is it just go with the flow?
Frisbee is a combination of structure and feel, it is about marrying the two. Using the past, the future, and the now, makes it come together.
John shares some of his innovations…which he says mostly comes from watching others and taking a little bit from everyone.
When touring with the Globetrotters, he believes he was the first to do a self-set to practice.
John, Jake, and Randy talk about the "osis" and its' many applications.
They also talk about finding the surprise in playing and the human reaction.
The Jammers will be live streamed the last weekend in May, and they will be testing the dial system. Be sure to tune in!