Podcast: Play in new window | Download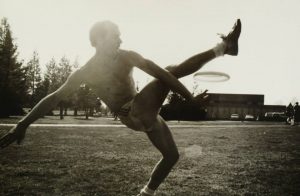 Who else is missing jamming and blasting out the carbons?! The Tiny Room Challenge was amazing. Thanks to Daniel O'Neill, crew, & competitors for making it happen, you entertained many of us for hours. Daniel rocked it as the commentator! Congrats to Pablo Azul & Juliana Korver for taking home the gold.
We have a recent inductee in the Freestyle Hall of Fame, Skippy Jammer, with us today. Skippy had most of his firsts in Modesto, California, which is known as the city on the way to where you're going. Skippy started playing Frisbee in high school and in 1976 after going to a tournament and seeing others play, the Modesto Mutants were born. Skippy talks about some of his unique moves that had even more unique names. After some success in his first competition in Santa Barbara, he was hooked for life. He recalls joining the Chico State Freestyle scene in the late 1970's, and meeting "fearless" Larry Imperiale.
Thanks again to all our supporters! It is especially meaningful during these uncertain times.