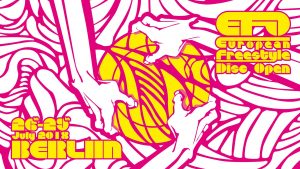 The European Freestyle Open (EFO) 2018 will be live streamed. The event takes place on July 26-29 in Berlin, Germany, only one week before FPA Worlds. This will allow many players to attend both events, giving the opportunity for a pre-view of many of the FPAW teams. With 55 players already registered, it is sure to be an amazing event.
EFO will include Open Pairs, Mixed Pairs, Women's Pairs, and Co-Op divisions using the official FPA competition format. Ryan Young and his bag of tablets will act as head judge.
For the stream, Mystiq and I will be working together to bring you the action. Randy and I are also planning to provide commentary for much of the event. All this should lead to an incredible show that you won't want to miss.
Thanks so much to the EFO team for hosting the event and for al their support!
Find out more on the EFO site and on EFO facebook event.