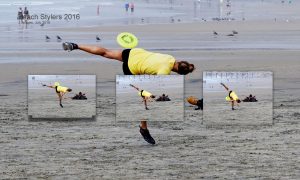 Congratulations to Pavel Baranak and Harry Skomroch who are the official open pairs winners of Beach Styler's 2018!
It was originally announced the Jake Gauthier and Dave Schiller took first place, with Pavel and Harry coming in second place by a .1 difference. However, after the event concluded, Dave (being the diligent tournament co-director that he is) went back and re-calculated the numbers. This time he did not round the number to tenths (.1), but rather to hundredths (.01). With this new and more precise calculation, the corrected scores are:
Pavel and Harry: 26.48 (1st)
Dave and Jake: 26.42 (2nd)
It's amazing just how close the scores were! And, Kudos to Dave for going back to double-check the math to ensure the correct results. Pavel and Harry really deserve this win! Congratulations to both of them, and If you're curious to see how great both these teams (and everyone else) played, check out the video replays here.