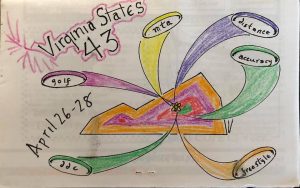 Lori Daniels and I will be Live Streaming Virginia States 2019 on April 27 & 28. Tune in here.
Virginia States is the longest running overall flying disc event, with this being the 43rd year. Harkening back to the days of the North American Series (NAS), Virginia States includes many flying disc events, including Accuracy, Distance, MTA, DDC, Golf, and Freestyle. Virginia States also has its own Hall of Fame (aptly named the Virginia frisbee Hall of Fame). Of course both Freestyle rounds (Sat & Sun) and this year's Virginia frisbee Hall of Fame inductions (Sunday) will be the focus of the live stream.
Freestyle at Virginia is a magical experience. Having so many frisbee loving people in attendance (while enjoying the cuisine at Laszlo's Weenie World) provides for a highly educated and appreciative audience. This encourages the Freestyle competitors to step up and impress, and they never disappoint. Saturday's semi-finals take place at a huge indoor field house on rubber grass, allowing competitors to showcase their indoor moves with a forgiving floor that allows for crashing and burning. Sunday's finals are held outdoors on real grass at Pratt Park. Since the other events of the competition have concluded by the time Freestyle finals begins, frisbee players and fans gather around to create an electric atmosphere.
This year we will live stream the 2019 Virginia frisbee Hall of Fame inductions of Pryor Hendrix, Randy Lahm (CO), Jack Cooksey (VA), and our own Lori Daniels (HI/OR). Many of you may not aware that Lori is not only a huge behind-the-scenes contributor to Frisbee Guru, but she's a many time world champion Freestyler, along with other flying disc accomplishments and contributions. Virginia State Frisbee Overall is Lori's home event, so it's exciting to see her be recognized in this way – and as the first woman inductee! Correction: Joann Loftus was the first woman inducted in 2018.
Just a fair warning; in the past, the internet connection from Pratt Park (Sunday) has been slow, causing the stream to be bumpy. We will do our best to keep it stable, but if it goes bad, don't fear: everything will be recorded and available for replay.