Podcast: Play in new window | Download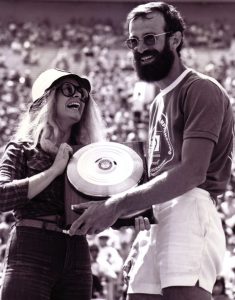 Jake and Randy follow up on the moves they discussed they wanted to work on over the year.
Hear about some of Stork's inspirations over the years, who knew it would turn to a discussion of spandex.
It also leads to more philosophical discussions about transcendent moments while playing.
Stork talks us through some of his observations from various players and trends from the 70's and '80's.
Jake and Randy demonstrate their freestyle geekery. Did you enhance or erode your reputation the last time you played or competed?
There are new t-shirts available in new colors as well as a "Guru Hand" with all our favorite freestyle lingo. Check them out on frisbeeguru.com/store!