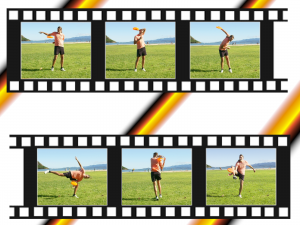 After writing the poll, what is your bail catch?, I realized a discussion of catch zones was in order. As one hones one's freestyle skills, one begins to realize that the disc can come in at any height, any angle, and any side of one's body. As such, it pays to have at least one answer for every possibility.
This is where the concept of catch zones comes in – it's a way to break down all the possibilities in order to reflect on what skills one may wish to develop.
I break down the zones as follows: ankles, knees, waist, shoulders, and head. Each of these has a right and left side, for a total of 10 zones.
So with that defined, the first step is to ask yourself, "what is your bail catch for each zone?" Here's a worksheet to help:
| Side of Body | Left | Right |
| --- | --- | --- |
| Ankles | | |
| Knees | | |
| Waist | | |
| Chest | | |
| Head | | |
Once the list is filled out, evaluate it with the following questions:
Are there any gaps?
Are these catches truly bail catches? Can you make them with both spins? Any angle?
Are you satisfied with the difficulty level or your form for each catch?
For example, here is my list:
| Side of Body | Left | Right |
| --- | --- | --- |
| Ankles | Chair | Phlaud |
| Knees | Under the Leg | Under the Leg |
| Waist | Behind the Back | Triple Fake |
| Chest | | Scare Crow |
| Head | Behind the Head | Scare Crow |
The first thing that I notice from my list is the gap at Left-Chest. A great thing for me to practice is a catch in that zone, maybe a right handed scarecrow. Next, I notice on my right side I have more difficult catches than on my left. So, I could drill my left catches; or target one of the zones and start drilling a different specific catch. For example, a left handed phlaud for the left ankle zone. Lastly, I my Knee Zone catch on both sides could be improved with more difficult catches, like a flamingo.
This "zones" exercise can be useful for more than just catches. For example, takes, sets, air brushes, against the spin, UD, really any category of tricks can be examined in this way.
What zone do you plan to work on next?