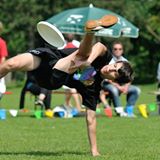 Written by Dan "Lusti" Lustiger
When I first looked at the flamingitosis I didn't believe it was possible. But when I learned the flamingitis I knew that that trick was my next goal.
I bet I know what you're thinking; flexibility is required to do that trick. NOT!!!!!
I'm not flexible at all and I am doing it. The key is the set.
Ok enough small talk…
Before you do the flamingitosis I recommend that you learn a few catches.
The flamingo, then to a flamingosis. And the flamingitis.
Once you learn the flamingosis and the flamingitis you need to mix them together. The set is very important. When you do the flamingitis you should look how far your hand can go to catch. If your hand doesn't go so far you should make the set a little to the right so when you do the osis spin it will be easier to catch it.
Okay now make yourself the set. The set should start from the waist level and end at the ankle area.
Now, once you did the set, spin around fast to the opposite way of the catch (spin clockwise if you're catching it with your right hand). Raise your right leg (again, if you're catching it with your right hand) over the disc, lean on your non-catching hand and catch.
Tip: some people are more comfortable of doing it with a center nail delay set. You should be expert in both (rim and center) sets so in mob-ops and small jams you will be able to end the co-op with a great catch.
Another Tip: some people like me can only do the movement if they set a disc. If you can't do it without a disc, don't think you lost it.
Last Tip: work both indoors and outdoors. The wind can change your movement completely. Be patient.
What, are you still here? Go jam!!!!!!
Lusti