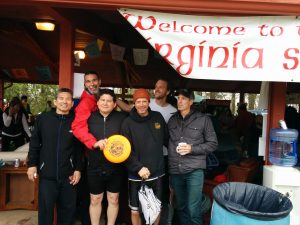 We often describe our Frisbee family as the Jamily, and we are like one big, happy family. But for some of us, we are lucky enough to have true family members who also share our passion for Frisbee. This is truly something special. When we talked to Jens and Erwin Velasquez, it was clear how much playing Frisbee together bonded them as brothers and as friends. I am fortunate enough to have Frisbee playing family members as well. My brother Matt and I started freestyling at the same time. We were partners in competition, we pushed each other's games, and to this day, there's just a sort of magic that happens when we are together in a jam. I'm also married to a Frisbee player, Lori Daniels. It's great to share our passion for Frisbee. We play together, support each other, and there's never a conflict about what we'll be doing for our vacations. Plus, there's nothing like waking up on a weekend and saying, "What do you want to do today?" and hearing back "Let's jam."
In contemplating this question, I began to wonder, does Frisbee run in the blood? Or perhaps having a family member who plays Frisbee is not that common. In this weeks poll, we'll find out. Extra credit if you share a story about your Frisbee playing family member in the comments below.
Do You Have a Family Member who Plays Frisbee?
[poll id="56″]