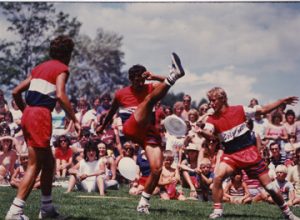 When I competed in my first event in 1996, The Beast took me under his wing and taught me how to think about competition. Since we had only met the day before we came up with 3 co-ops for the routine. That was 3 more than I had ever come up with before. From there, my routine preparation slowly grew towards more choreography.
At the 1999 FPA World Championships, Matt and I had 4 opening co-ops. Then we went "spon" until a "half way" time call. We had 2 co-ops for that. Then "spon", finishing up with 2 co-ops at a "30 seconds" time call.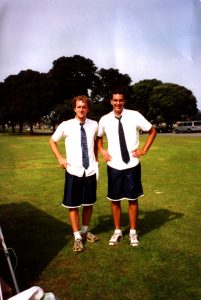 At the 2001 FPA World Championships, Matt and I had every moment of the routine planned out, with the exception of our 4 indies. No time calls where needed. At the time, that was our best finish, 4th.
Based on that experience, it might seem that fully choreographed routines are the way to the top. However, I have also had many successes that were 100% spontaneous. Matt and my first win at California states, for example, or recently at Frisbeer 2013. Never won and FPA worlds without choreography though.
After listening to Bill talk about the Coloradicals journey towards choreography, hearing the various approaches of the teams at Frisbeer 2017, and reflecting upon my own history, a question comes to mind.
When you compete, how much of your routine is planned ahead of time?
[poll id="7″]
Tell us in the comments, do you think choreography increases a team's chances of doing well?