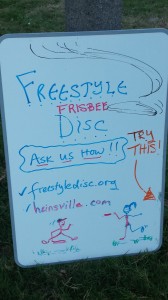 There was a summer when the Portland crew was determined to find a new jammer. We put up a sign at every jam and made focused efforts to talk to anyone who stopped. Yet for all the effort, no new people became jammers. However, there was some success. We talked to many people. Some people did learn what freestyle was. Another couple borrowed a disc and played catch on their own for 30 minutes or so. I taught at least one boy to air brush a whiz ring. I'm afraid to say that since that summer we've lost some of our motivation to talk to those who stop and watch.
This weeks poll: When someone stops to watch the jam, do you stop to engage with them?
[poll id="6″]
If you are a person who engages, what do you say? Has anyone had success bringing in a new jammer this way?