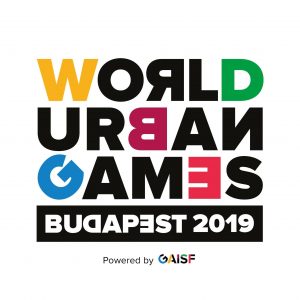 In 2 days Lori and I will be getting on a plane and heading to Budapest, Hungary for the very first World Urban Games (WUG)! I figured I'd take a break from packing to share an update about this event. If you have not heard that Freestyle is at WUG, it's a huge deal (!) and the first time that flying disc will be represented in a multi-sport event among other urban activities. We wrote an early article about WUG when it was first announced, but be aware that the venue and dates have changed since it was written. Here's the official WUG site.
First things first: the Olympic channel will officially be streaming WUG, including Freestyle Flying disc. It can be viewed here and here is the official announcement. I'm hoping I can get an embed code so it will also be viewable on FrisbeeGuru.com, but that is not certain yet.
The next obvious question, when is Freestyle happening? Here is the full schedule for Freestyle, which is sharing the same field-of-play with 3×3 basketball. The important times:
Prelims: 2019.09.13 @ 14:45 – 17:15 UTC +2
Semi-finals: 2019.09.14 @ 10:45 – 12:00 UTC +2
Finals: 2019.09.14 @ 16:00 – 16:45 UTC +2
Awards: 2019.09.14 @ 16:45 – 17:00 UTC +2
This means that semis and finals are on the same day. We're not sure if the Olympic Channel will stream every round of Freestyle, but they will definitely be streaming the Finals. Also, this will not be "Frisbee time," and everyone will be adhering to a tight broadcast schedule. Judges have less than 2 minutes to tally their scores and then the next team is up.
There will also be about 5 different Freestyle demos scheduled, one of which Lori and I will be doing for 5 minutes on Friday, 13 Sept. Other demos are being scheduled now.
Who are the international teams freestyling? In case you missed it from the FPA site, here's the list of the 12 teams and the 9 countries being represented at the first WUG: (List Updated 9/9)
1. Juliana Korver/Ryan Young (USA)
2. Emma Kahle/Daniel O'Neill (USA)
3. Bianca Strunz/Fabian Dinklage (GER)
4. Ilka Simon/Waldemar Wagner (GER)
5. Maxine Mittempergher/Edo Turri (ITA)
6. Anna Bragagnolo/Andrea Rimatori (ITA)
7. Joakim Arveskar/Vendella Arveskar (SWE)
8. Bar Bendek/Yuval Reikoren (ISR)
9. Benedicte Audet/Brett Schramek (CAN)
10. Marysia Ryszarda Krajewska/Kuba Radwanska (POL)
11. Sophie Rickers/Gordon Brown (UK)
12. Paola Andrea Garcia Palaez/Pablo Azul (COL)
The last thing I will mention is a follow up to the discussion Randy and I had in this podcast episode where I mentioned that Bethany and I might be providing commentary for the stream. That is now confirmed, so when you tune in to the Olympic Channel, you will be hearing our voices. How cool is that?! Lori will be the on-site, field-of-play MC with a Hungarian Co-host. We hope to engage, educate, and entertain so audiences become more interested in Freestyle Disc.
What do you think about Freestyle Disc in the WUG? Do you have any predictions about who will win, who will podium, and why? Let me know in the comments, or send me an email.