Podcast: Play in new window | Download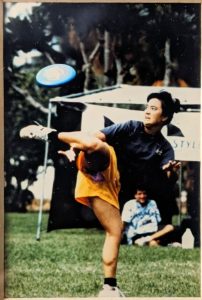 Lori shares how she started getting competitive with Frisbee and pulled it with her as she continued her education & career. She moved to the Pacific Northwest in 1988 and she recalls hooking up with the Green Lake crew. Jake asks Lori about her Yakima experiences, which is where they actually met for the first time. Lori shares her memories of the large audiences that were present while doing a Frisbee Festival at the Smithsonian. How does having an audience influence your play?
Congrats to Joey Hudoklin and Amy Anderson on their recent nuptials!
Also do forget to take advantage of FPA Membership discounts for Skystylers from The Wrightlife – www.thewrightlife.com – become an FPA member today.
Photo Credit: Grant Wise