Podcast: Play in new window | Download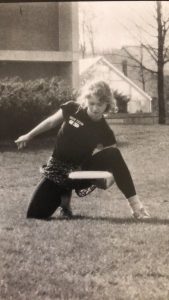 We start the journey with Su Strait and where it all began in Central Park. Dance was her passion but not her people. Frisbee allowed that passion for dance to continue through her love of freestyle and the people who were part of it. Su tells us about the beginnings of her partnership with Jane Englehart – arranged marriage? She talks about van life and the journey to the Rose Bowl plus much more.
Below is the link to download Fabio Sanna's and Rick Moody's drawing of the iconic photo of Su Strait's bad attitude catch.
Thanks to Fabio Sanna and Rick Moody's for their generous gift to our listeners!!