Podcast: Play in new window | Download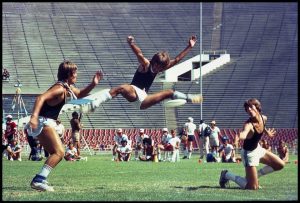 In this episode, we continue our conversation with Allen Elliot and Donnie Rhodes.
Allen Elliott gives us the backstory of the semi's at the 1981 Rose Bowl. 16 teams experimented with  "Pick Your Poison" to finalize the pools. The strategy was to avoid the Coloradicals. Was Bill Wright was actually trying to pull a fast one?
Per Donnie, things were much more serious & competitive then,  "Winning was life, freestyle was not a pastime, not a hobby, it was our livelihood."
Donny shares his philosophy on the evolution of freestyle.  In his opinion, freestyle has veered away from what makes it beautiful, which is the mere flight of the frisbee and the kinesthetic awareness it creates.