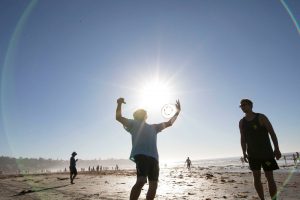 Beach Styler's will be live streamed. The event is taking place this weekend (Sept 28 – 29) at La Jolla Shores Park in San Diego Ca. La Jolla shores is an incredible beach to jam on, with plenty of hard packed sands and kind winds coming from the west. This inspires some top notch spontaneous wind play.
The competition format also inspires.It includes 4 divisions; Open Pairs, Mob Op Idle, Air Brush Races, and Turbo Shred. Each of these challenge a freestyler's skills in a different way.
This year will have an especially large turn out since the FPA World Championships is only two weeks after. It should be incredible to see all the top tier freestylers strut their stuff in the hein beach wind.
And, as if that were not enough, this year will include an electronic system for collecting judges results, which means we *should* have nearly realtime scores to be announced ito the live stream. So, tune in and enjoy!! But, don't be to disappointed if no one is moving the camera…it just means that I'm out there jamming and enjoying with wind ;-).