In Part 1, I explored how Freestyle will improve your Disc Golf game. In this article, with help from the panel of experts (list below), I investigate the reverse, how does Disc Golf improve your Freestyle Game?
Throwing ZZZs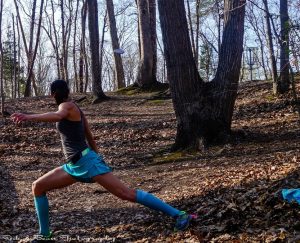 In Disc Golf, long drives require tremendous grip and arm strength, yet you still need a high degree of control to maintain accuracy. In Freestyle, throwing a disc with high Zs (spin) requires exactly the same; strength and control. Juliana Korver was able to translate her Disc Golf skill quickly, "It took me about 10 minutes to feel comfortable with the chicken wing throw and I think I had a decent amount to spin on my clock throw right away." 
Ideas for Midair Attitude Corrections (MACs)
Much of Freestyle is about creativity. Any time you're out tossing some plastic (or even just watching a disc fly) there's an opportunity for inspiration. For Matt Gauthier, Disc Golf helped him with midair attitude corrections (MACs), "I'm not a very good golfer so many of my throws would hit things. Turns out that was useful. I would throw a little too high and skip off a tree branch or too low and skip off the ground. I'd hit some surface and the disc might changes angles 180 degrees. In the beginning it meant an extra stroke (at minimum). As I began to understand how the disc would deflect I could use it to my advantage. Skip the disc in under the basket for example. Over time I started to understand that I could use my body to apply pressure to edge of the disc in the same way a tree branch would. For me, it opened up all 360 degrees, top and bottom of the disc for cuffing."
Mental Focus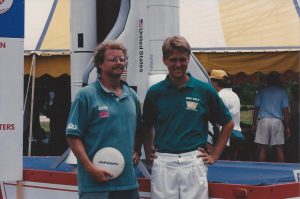 I've noticed that in practice I can hit some challenging putts, but when it's the difference between birdie and par, I often choke. In Freestyle I tend to rely on my reflexes, but Golf is really all about mental focus. Practicing this focus can help one attain "being in the zone" in any sport. Crazy John Brooks remarks, "As you may have seen in both freestyle AND Disc Golf, the situation can be similar in that when a player reaches a certain level of Zen with their mechanics and environment (on any given day), the results can be mind-blowing." 
So it seems that playing Disc Golf can help one's Freestyle game as well. Greg Hosfeld adds,  "I was an over-aller for quite a while. But I gravitated to freestyle and golf. To me, they're my Yin/Yang. Golf is slow, plotting, methodical. Freestyle is quick & reactive. But, in both there are rhythms and depths of game that seemed endless."
If you have experiences in cross training between Disc Golf and Freestyle, please share in the comments.
Special thanks to the Panel of Experts:
Juliana Korver (Part 1 & 2)
Crazy John Brooks (Part 1 & 2)
Glen Whitlock (Part 1)
Lori Daniels (Part 1)
Greg Hosfeld (Part 2)
Matt Gauthier (Part 2)